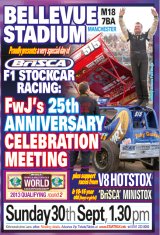 This Sunday is FWJ's 25th Anniversary Celebration meeting at Belle Vue, and amongst other things there will be a "Class of '87" race.
Drivers confirmed so far are:
Steve Booth
Mal Brown
Peter Falding
Bert Finnikin
Mark Gilbank
Ian Higgins
Andy Hodgson
Stevie Hodgson
Paul Harrison
Murray Harrison
Gary Maynard
John Lund
Geoff Nickolls
Henk-Jan Ronitz
Rob Speak
Richard Thornton
Tim Warwick
Ray Witts
Frankie Wainman Snr
Frankie Wainman Jnr
It all takes place at BELLE VUE STADIUM on Sunday 30th September. See you there!