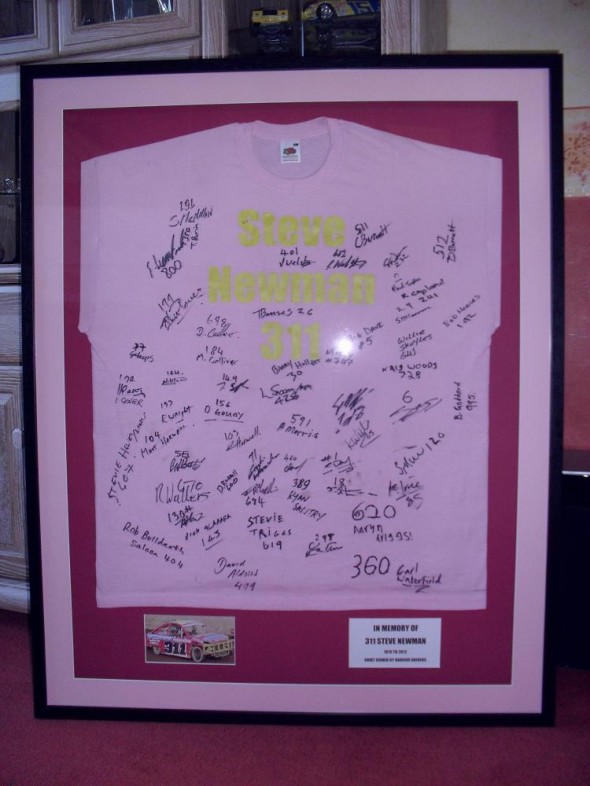 I had a t-shirt made for last Saturday's meeting at Skegness to pay my respects to Saloon Stox driver Steve Newman 311, as the request was to wear something pink in his memory. Anyway I decided to get my t-shirt signed by as many saloon stox drivers as I could on Saturday night.
The idea came about as to what I would do with the shirt after I had worn it. It would no longer be any use to me, so decided to get it signed and put it up for auction. I told all the drivers who signed it that i would be putting it on eBay later in the week, so here it is, this is your chance to own this unique one off piece of memorabilia and also help to raise a few quid for the Newman family.
All proceeds will go to Steve's wife and children. Arrangements for collection/delivery to the lucky winner will be arranged via Ebay, i mainly follow F1 and the next time the F1 are on with the saloon stox is Friday 14th September, so I can bring it with me to that meeting if requested or alternative arrangements can be made.
Also the T-Shirt has been professionally framed by Chris Binns, who many people know does a sterling job with the BriSCA F1 framed panels and Team GB auction panels, etc. It looks simply stunning, thanks again Chris.
The shirt can be found on eBay here
Thank You
Martin Fitzgerald