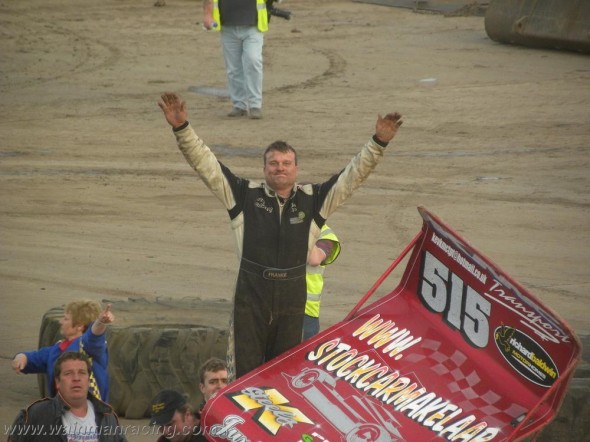 Me, Danny and Frankie JJ are racing tonight. I'm pretty happy to have my Semi Final here, as it means I can take Frankie JJ to the Isle of Man to race.
24 cars partake in tonight's Semi Final. I'm off the front row inside. We have set the car up for the wet. The track staff are working hard preparing the track and couldn't have done a better job.
The rolling lap gets underway! The flag drops and Finn gets the start on me, I manage to keep with him and pass. My car felt really good and I get to grips with the track conditions.
I'm having a good race with Flying Finn when the waved yellow are out. I'm in second place behind 55 with World Champion Paul Harrison behind me. Micky 172 has hit a tyre pretty hard and rolled, so the track is cleared before our re-start.
The re-start goes well and I get back past 55. I'm aware that my back outside wheel is buckled, I can feel it vibrating. I just have to hope for the best and hope it holds out!
The waved yellows are out once more. This time I see that 390 has got up into third, so I'm expecting to be snookered. It didn't happen, my re-start was perfect and with 4 laps to go feel confident that I cannot be caught!
This was the case and I cross the line victorious! Finn 55 is second and Paul 2 is third. Thank goodness it's over! Front row in the World Final come September.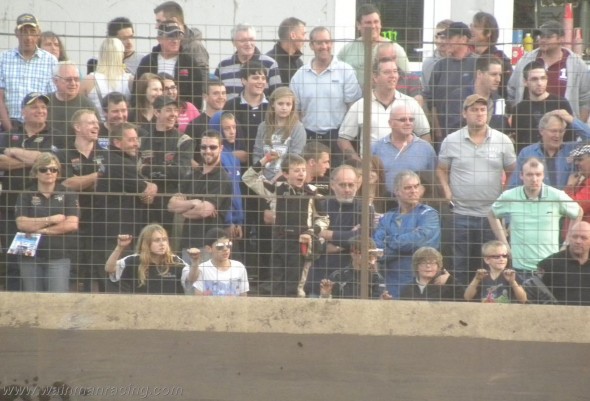 Frankie JJ seemed happy with the result!
Danny is beaming away at me as he helps to cool my car. He's out for his first heat now and drives a fab race to get second place.
After this JJ is goes out for his heat in his Ministox. He has a consistant evening – seventh in heat 1, fifth in heat 2 and fifth in the final.
The rest of my evening didn't go particularly well but I'd done what I wanted to do so wasn't too bothered.
In the final the car still felt good, and I got up into about 4th place before colliding with Will 22 and slowly falling over! Didn't even scratch the paint so that was good. Danny got a flat tyre and retired.
Just the Grand national to go now. Not much to write about. Early in the race my MSD failed so race over. Danny went out too.
So the meeting started better than it finished. Glad my Semi is over and done with, and chuffed with the result.
The big truck heads back to Silsden and the Mini truck heads for Skegness where JJ will be racing tomorrow.
Thanks to everyone for their support, fans, mechanics and family. Top night!
Frankie
All photos by Martin Fitzgerald. Cheers Martin!