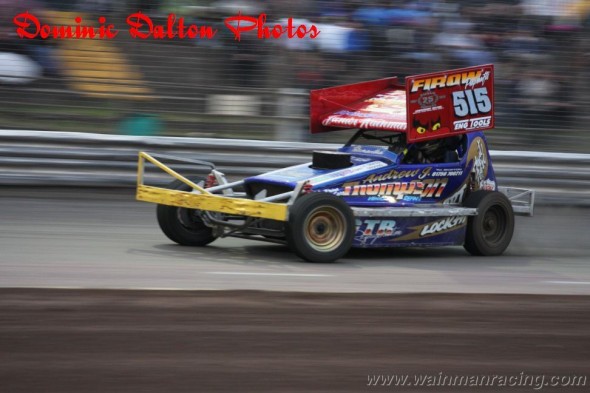 Ipswich was a last minute decision really, as on Wednesday we had no fuel money. Thankfully we managed to get enough together and took the smaller truck, which is better on fuel.
The drive down was as long as I had remembered! We arrived on time and got ready for a bit of practice.
Heat 1 and the car felt good. I was up into third place before I pulled off with a flat tyre.
There's not much time between races, and I'm soon out for heat 2. The track is okay unless you go a little bit wide, as there's no grip what so ever. I cross the line in third place.
Not long before the final is on track, and the car feels good. I get to third place and Nigel (45) and Will (22) are ahead, but I didn't think I had any chance catching them.
That was until on the last lap, when Will's gearbox exploded and he stopped pretty quick. Nigel kind of slowed with him, and I saw my chance to blast past to take the final! My lucky day?
I start from a lap handicap in the national, and I'm not expecting much to be honest. I finish in eleventh place.
So a good day! Nice to see the Ipswich crowd and fans again.
Big thanks to Thornie who kindly shared driving the truck with me!
Frankie

Thanks to Thomas English for this video of the final.
Finally, thanks to Dominic Dalton for the superb selection of pictures from the meeting.