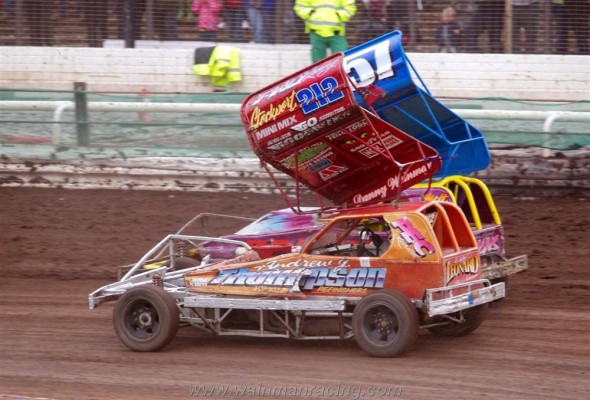 Everything is loaded and ready to go on the Big truck for Coventry, but before we leave I want to get the mini truck loaded up for Barford tomorrow as it's an early start. We're put behind a bit when I discover a problem with Frankie's tarmac mini. Anyway we do our best to put it right and find ourselves running 40 minutes behind time.
On arrival the pits are chaos! We more or less have to dump the truck where we can as there's nowhere to go, still somehow we manage.
Danny is racing from 'Superstar' tonight! He has a pretty smooth run in his first race and qualifies for this evening's final in eighth place.
My heat now, the car feels really good! Me and Mick 150 are having a good race with a couple of hits being exchanged, then Craig 55 catches up and gives me a slap! I managed to get going again, catching Finn and returning the favour!
Mick has pulled a bit of ground on me now but is slowed down a bit by a back marker. Here's my chance… went for the dive, put Mick wide, and took the flag!
Back in the pits, the crowd are going mad and I get a round of applause. Plus a tyre bought for me! So I guess it was a good race? Thanks for the support, everyone!
Another good race for me in the final. It was hard work making my way through the traffic but managed to get third. One more lap would have been nice!
Danny wasn't so lucky, going good until his panhard rod snapped off so a DNF.
The heavens have opened for the Grand National! I don't think there was a single car that didn't take a spin at some point during the race! Even the more experienced drivers were going out. Still, everyone drives to their best ability in the awful conditions, I get fourth place and Danny hit a spinning car and didn't finish.
So a successful night for me! We managed to turn the 63ft long truck around in the pits and head for the pork & chip shop for supper. Got into bed at 3.30am, set the alarm for 7.30am ready for Barford.
Frankie
These photos are from Chris Webster – make sure you check out his website JC Stox Pics.