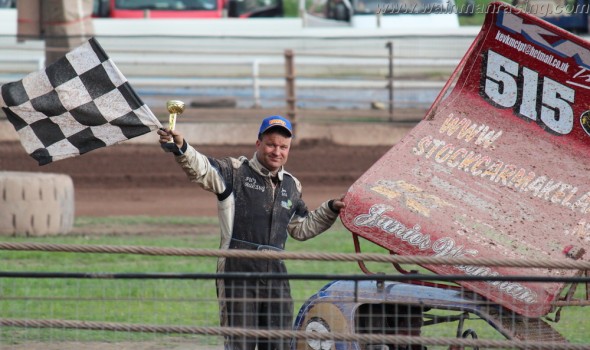 Our third meeting this week took us to Belle Vue. Just me and Danny racing the F1s this evening.
I struggled a bit in the first race as the engine kept flooding up, but I kept going and still managed to finish third.
Back in the pits I reset the carb, and in the second heat it was much better. My car felt good, and I manage to avoid any trouble and pass the line first.
That was to be my best result of the evening. I lost some time in a pile up at the start of the final, but eventually finished third. I also got yet another third the Grand National, so at least I'm consistant!
A fairly trouble free evening for myself, which allowed me to load up the car without any worries.
Danny's night on the other hand didn't go quite so smoothly. He did his gearbox in his heat which caused the bell housing to break. We did our best to bodge it together for the rest of the meeting.
In the final Danny got up to about fourth and gave Lundy a slap to pass. But Lundy wasn't having any of it and returned the hit on the last lap, meaning Danny didn't finish and wasn't able to race in the GN. So a poor meeting for him.
Still, no serious damage occurred, nothing that cannot be fixed.
We head for home, and I've just a bit of work to get on with before we set off for Stoke tomorrow.
Frankie
Thanks to Vic Peake and Big Dave Hogarth for sending in these photos from Belle Vue.