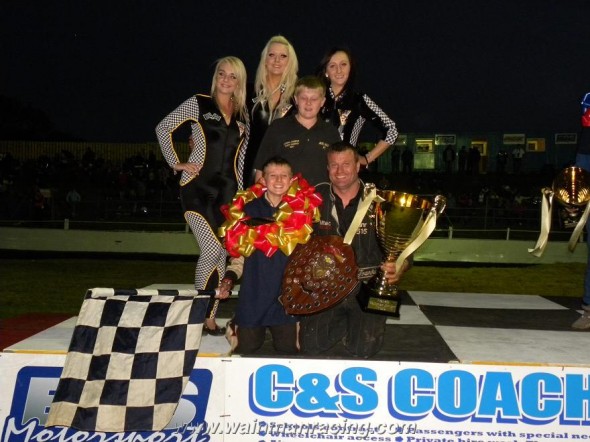 As most of you will already know, Frankie JJ won the Ministox National Championship at Barford, on Saturday 8th September.
So how does a 12 year old lad win the biggest race of his life on the roughest track they race at?
As a parent you can only advise and mentally prepare them for any race. Yes, you can prepare the car, engine, tyres, set up etc… but all of this goes out of the window if the driver does not perform.
The weeks leading up to the Gold top race, we knew Frankie had claimed pole position. He had worked really hard in the qualifying rounds, so I tried to advise him on what to do, and what to expect.
Previous meetings at Barford this season have seen Frankie be the fastest car at most meetings. He has secured both heat and final wins. As he was pole sitter and quick around Barford, I explained to him he would probably be in for a rough ride!
His starts were going to be the key to his success, and boy did he get them all right!
When the time came for him to go out onto the track, I could not believe how nervous I was. Frankie JJ on the other hand seemed fine, which I found quite strange? So off he went for the parade lap, I helped him get strapped in and gave him a hug, the rest was down to him.
Text book does not even come close to his performance! He took complete control of the rolling lap, his first start was faultless! As soon as the green flag dropped he set off and managed to make enough ground down the first straight to avoid being hit on the first corner.
He pulled a good lead over second place before the race was stopped with waved yellows. This was now going to be the biggest test of Frankie's nerves! Once again he didn't disappoint! With an over aggressive line of cars right behind him, he held the grid until the green flag dropped, then made a faultless couple of corners to pull away from the field again.
Another two stoppages later and again he was faultless! He went on to lead until the chequered flag dropped.
Proud does not really cover how I felt and still feel now. I have watched a lot of Mini Gold top races, and I have never seen a driver of such young years drive with such a mature head.
When I sprinted to the start/finish line, I will never forget the smile on his face as I looked into his cab. He was beaming and said "Was that okay, Dad?" OK?? Was he for real?
The history of our sport shows that Gold roofs don't usually come easy to the name Wainman, however I have a sneaky feeling the latest one might be an exception to the rule?
Thank you JJ from the proudest dad in the world.
Dad xxx
All photos by Martin Fitzgerald – click for full size.