When Tom Poynton sent in a picture of himself with the model stock cars that he'd made, we thought they were so good that they deserved their own photo gallery.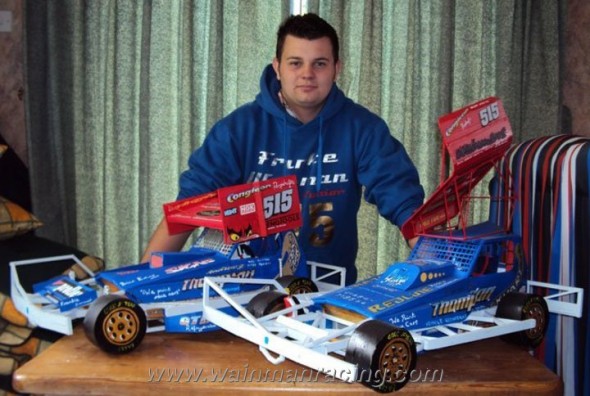 Tom lives in Sutton on Sea in Lincolnshire, which is about 20 minutes away from Skegness Stadium. He's 18 and has been going Stock Car Racing since the age of two, and has been a massive Wainman fan ever since.
The models are made out of balsa wood and balsa dowel. The F1s are approximately 60cm long, 40cm wide and 50cm high. They have model engines and radiators. In the cab there are mirrors, pedals, seat belts, steering wheel and a gear stick. The models have panhard bars and link bars, model shockers and grills.
Each one takes about a week. Tom spends about 5 to 6 hours a night on them, making and then sign-writing them.