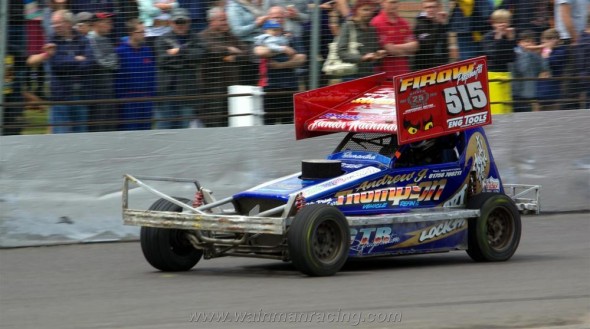 Apologies for falling behind on our reports, to say we have been busy lately is a understatement!
SATURDAY
Saturday evening at Northampton wasn't the best of starts for the weekend ahead. On the first lap in heat 1, I clipped the Dutch H148 car as it bounced out of the fence. This broke my front suspension and led to a complete re-start.
I asked if outside assistance was okay to fix it and was told yes. We fixed the car only to be told I wouldn't be able to re-join because of outside assistance! A bit annoying as I could have easily fixed it by myself.
Danny was in the second heat. Driving okay, but hard to catch the lower graders, he finished ninth qualifying for tonight's final, something I still needed to do!
Thankfully in the consolation the car felt good and quick, I manage to guarantee a spot in the final by taking second place.
The final was a good race, with a couple of waved yellows I bagged myself a podium third place. Danny battled on and got ninth.
Just the Grand National to go. I was having a good battle won 150 & 84. All exchanging hits and places. Tom got me on the last bend and I got sixth. Danny didn't finish.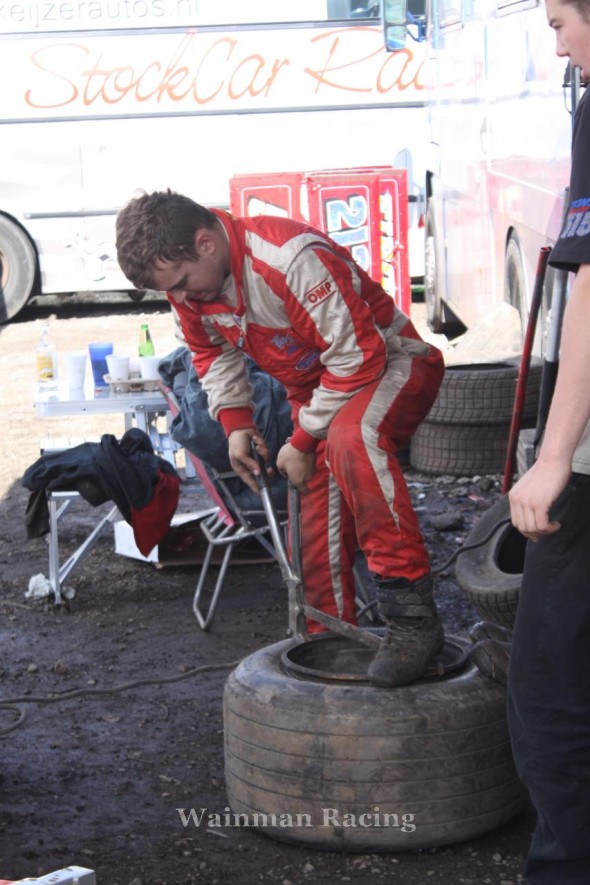 SUNDAY
We didn't get the best night's sleep! Don't park next to 'The Dutch' if you want a peaceful night, they party hard!
The European is the first race out. Unlike the F2s we start in grade order. Because of this I wasn't expecting a lot when you have decent red tops starting 14 cars in front.
Danny's car cut out at the start so an early retirement for him. The yellows are out on lap 5 then again on lap 8, at this point I'm up to seventh.
Lap 12 and the yellows are out again. Now I'm in fifth behind Tom. The race re-starts and I feel my tyres going off. The flag drops for 84 Tom and I finish in fourth. Congratulations go to Tom Harris on his first European win.
Out for my first heat which was a bit eventful. Going well and getting up into a reasonable place. I catch and pass number 4 cleanly, only for him to try and wall me up. My car wouldn't re-start so I was out of the race.
Number 4 decided to give me more punishment by trying to power slide into me whilst stationary. Let's just say it took just five minutes to fix my car but he had to load up.
It's Final time. Thirty cars are out, so it's going to be hard work. The start goes well, and about halfway into the race the yellows are out and I'm up into sixth. Danny is just ahead of me in 4th place. Both me and Dan are going well and catching before someone drops their oil. We fight to keep our cars in control; I finish in third and Danny in fifth.
Just the Grand National to go before we can load up after this long weekend. Another fast eventful race! |I get a flat tyre and Danny finishes in 11th.
So a good weekend of racing, some good results, lots of action but all in one piece!
Frankie
Big thanks to Mark Hipkiss and Chris Webster for sending in the superb photos on this page.