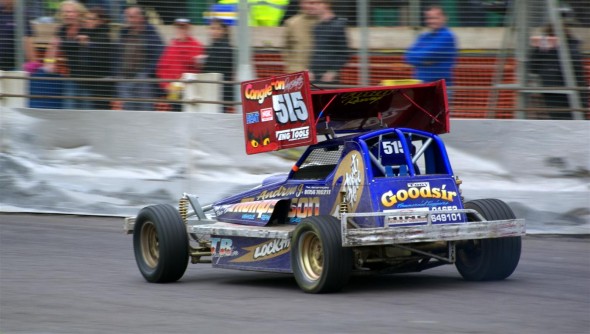 Such chaos in the week leading up to the European! Took on more work than I should have, earliest night this week was 11.30!
At 4.30pm on Friday, me and Frankie JJ go to Long Eaton to collect our mini transporter. It has been at Steve Reedman's having a new paint job. As usual he has done a fabulous job I'm really chuffed with it, it actually looks like its worth a few quid now!
Got back to the farm at 22.50 and Sam cooked our tea, as we'd not had time to stop for anything. Then straight back into the garage to do a few more jobs.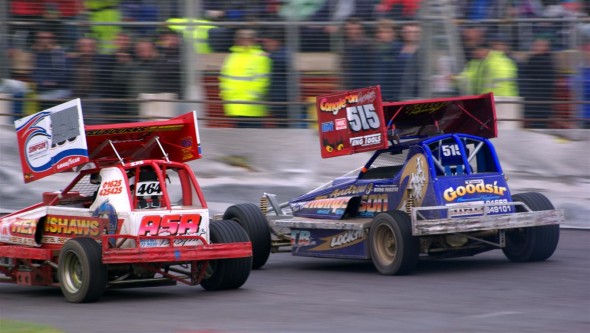 Saturday morning, Dad sets off for Northampton in the Big Truck. Only Daniel is racing tonight because I'm taking the kids to Stoke. A very expensive weekend, fuel wise.
It's been 10 years since I last went to Stoke and the only thing that has changed is the track. It's now perfectly smooth. Kids have an okay night. Frankie JJ complains about a driver who keeps turning right on him down the straights so he decides he's going to put him in the fence! No podium places for either kids but no damage either. Once we're loaded up, we set off for Northampton and arrive to some very loud music – the Dutch certainly know how to party!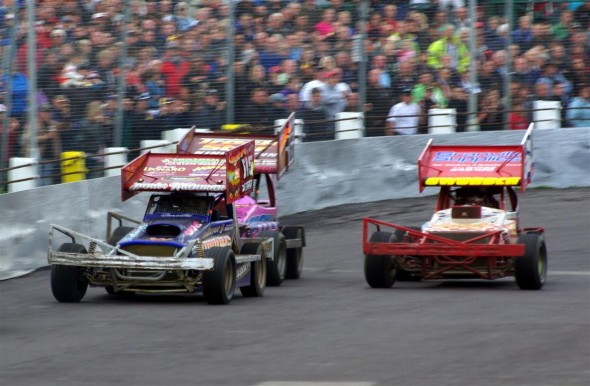 Sunday Morning, it's pouring down! I like wet tarmac so this is good for me? Well, sometimes. As the drivers line up for the European the weather couldn't make up its mind which made it difficult for drivers to decide which tyres to run.
First few laps a lots of hard hits occurred, I was on the giving and receiving end, and after 4 laps I'd bent my front shock absorber and several laps later it broke clean off when me and Andy Smith went in. With that I pulled onto the infield. Congratulations go to Mick Sworder on his successful weekend!
In my heat car felt good and I managed to get second place. However due to bad tyre set up / choice my Final race was the pits so to speak! Got the car going better in the National though, and managed another second.
All day during Sunday I had trouble with the transporter, it's started to cut out a lot. The problem has not been solved yet, we had to pull over about 5 times on way home and bleed it. It could be a problem with the injector or the lift pump. More hassle and expense that I could do without! Anyway, I didn't time to worry about that because we were leaving at 6am in the morning for Tenerife!
We had a wonderful break and a lot of fun. In one particular bar I saw a chap who looked familiar. It turned out to be Northampton marshal Mark Swaine, who was there with his son Ashley for his birthday. It was actually nice to have a good chat away from the Stock Car scene and we saw them a few times after that – top lads!
Got back from our hols on Monday 25th. It' s going to be a very busy couple of days as Thursday morning we are taking the children to The Isle of Man, as they race there once a year. They are racing on the Saturday and the Monday but I will have to miss their Saturday meeting as I will be getting the ferry back to Heysham, driving to Skeg for my Semi, then driving back to get ferry back across again. Blimey, I've clocked up some miles just lately!
Frankie
PS – big thanks to Chris Webster for these great photos from Northampton.