We left the farm a little bit earlier than usual as I had to drop Paul Hines' tarmac car off en-route. Paul ended up with a fair bit of damage after Northampton, so it's been up to the farm for repairs.
Tonight's a busy night with 3 different championships running. The first one is the Grand National Championship and I started 4th row inside. During the first 2 laps there was a few hard hits being exchanged, the car felt awesome and I soon found myself in second place.
Matt Newson (16) is ahead and after a while I caught him up and passed him. With just 2 laps to go the waved reds are out, a new rule this year says that when the red flags are out drivers must stop straight away. As I'm sat stationary a few other drivers continued to race and it was at this point the race was finished a lap early.
So that was it! A good start to the night and winning the Grand National Championship again felt good!
My second race/championship was the 'World Of Shale'. For this one I started in pole position, ended up getting spun early in the race and dropped down the grid. I fought to work my way back up and crossed the line in third place which I was pleased with.
A normal heat goes out next. A decent race, few hard hits going on throughout! I battle my way through the best I can and get another third place.
So now it's Final time. The car has felt brilliant all night, and for once in my opinion the track feels mint! Never really been a fan of the Coventry track but the combination of the car and conditions of the track seem to be working tonight!
That's until I catch up Danny and balls it up trying to get past. We ended up getting tangled and the front kingpin and stud ends broke, so the end of my evening was spent on the infield.
Still, we leave the meeting on a high, apart from the last race I end up with some good results and silverware!
Fish and Chips all round on the way home and I get chance to sit and relax as Thornie drives home!
We're home for 3.00am and set the alarm for 7.30. Two minis to load for Belle Vue tomorrow.
Frankie Wainman Junior
Big thanks to Michael Jenkins for these pictures from the Coventry pits.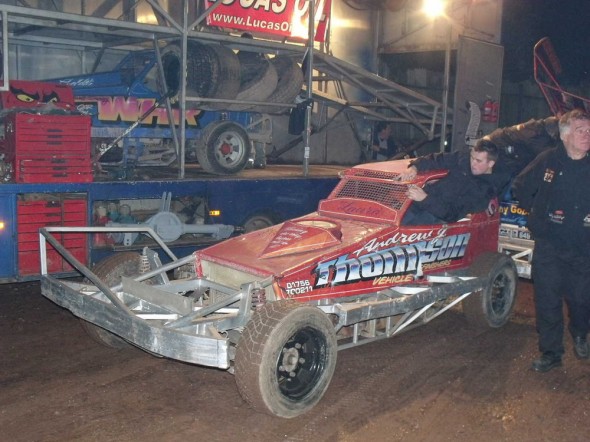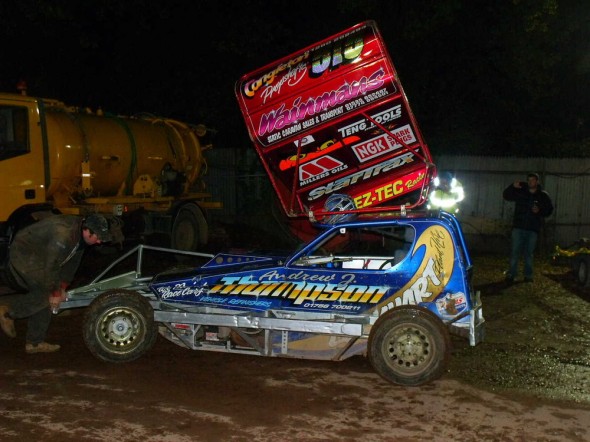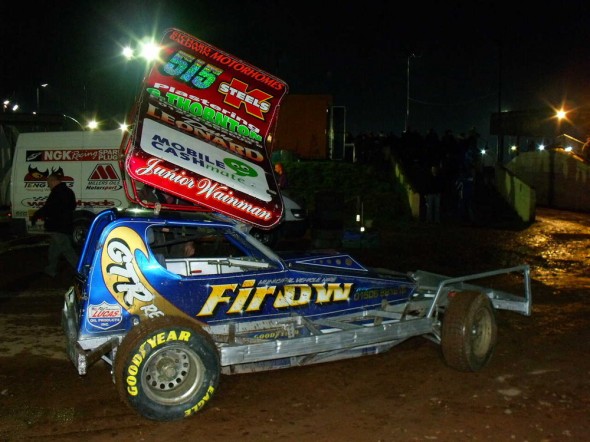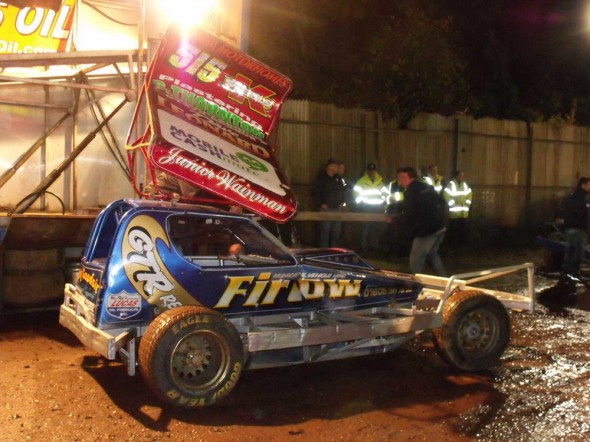 And also big thanks to Mike Bottomley for these shots: