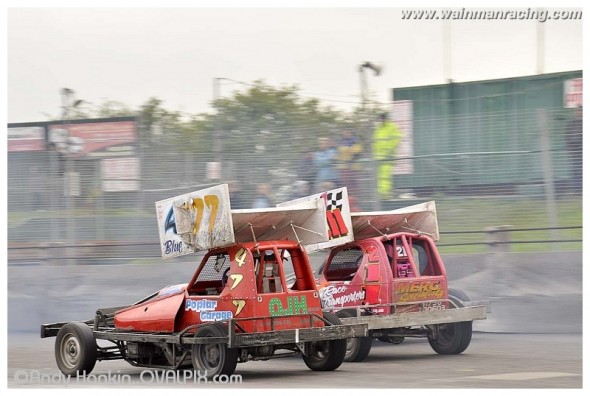 When I arrive at Northampton it is raining heavily! Just what my dad would want if he was racing, but I am uncertain. I hated Northampton when I raced there in my mini, but V8s are totally different so I am hoping I will enjoy it.
Because my dad and brother are racing at Sheffield today, Ian Hertzog offered to take me and Max. Chris Fort and Ivan Pritchard are there to help me and set my car up for the wet.
The first race of the day for me and Max is a Whites and Yellows, and the track is soaking! Max starts on pole and I start at the back of the whites.
Max leads for a few laps as I make my way through the whites. Within roughly 3 laps I am at the front and in the lead, hoping that I don't get caught by a higher grader!
Three laps to go and I am half a lap in front of second place. And then the flags go out to me! My first race win! Really wish my mum and dad could have been there to see that!
Guess I do like the rain after all, must be something in my genes!
Unfortunately Max gets a flat and does not manage to finish the race.
First heat now and the first few laps the car feels great! Catching Max, who is in first place, but then my tyre clips another car. I get a flat tyre and have to pull off. I was a little disappointed but still overwhelmed by my win in the previous race.
On the infield I watch Max lap by lap who is still in the lead. He manages to stay there the whole race and collects his first race win! I am so proud of him!
Second heat now, and again I manage to push through the whites and get to the front. I lead it the whole way and even manage to lap a few cars! I take my second win for the night! I think I love Northampton now! Unfortunately Max spins out and doesn't manage to finish.
The final is going out now and I am a little bit nervous! The track has dried out and all the higher graders manage to catch me up within a few laps and then there's a yellow flag. I get thrown about a bit, but stand my ground and manage to get seventh, with Max just behind me with eighth place.
Not a bad days racing at all, and I really enjoyed it!
I would just like to say a huge thank you to Ian Hertzog, Chris Fort and Ivan Pritchard, I couldn't have done it without you!
Phoebe
A big Thank You to Andy Hankin for these brilliant photos. Make sure you check out his website OVALPIX.